CURRATED: ZINE SOUP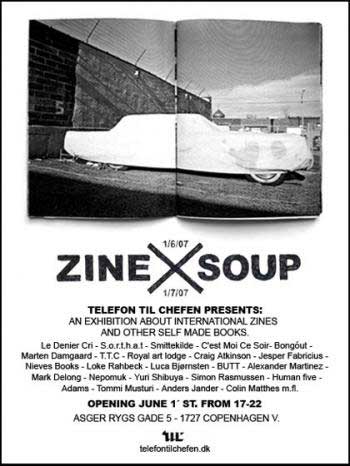 ZINE SOUP an exhibition about zines and self published art books
at TTC Gallery 01. Jun. — 01. Jul. 2007
TTC has since they started been one of the only exponents of the graphic zine scene in this country. Until now this culture have lived a fairly hidden life in Denmark and we are therefor very proud to present the first exhibition of international zines and self-publicized books on danish soil. With "Zine Soup" you will have the opportunity to explore a wide selection of zines, book and original work from the broad spectra of participating artists.
Some of the participants:
Le Dernier Cri (France) – Nieves Books (Sweizh) – Yuri Shibuya (Japan) – Smittekilde (DK) - Bongout (Sweden/France) – Tommi Musturi (Finland) – Jesper Fabricius (DK) – Daniel Milan (DK) – Martin Damgaard (DK) – Anders Jander (Sweden) – Colin Matthes (USA) – BUTT Magazine (Holland) – T.T.C (DK) – S.o.r.t.h.a.t (DK) – Royal Art Lodge (UK) – Craig Atkinson (UK) – Loke Rahbeck (DK) – Sigrid Astrup (Norway) – Luca bjørnsten (DK) – Simon Rasmussen (DK) – Mark Delong (USA) – Alexander Martinez (USA) – C'est Moi Ce Soir (UK) – Mark Price (USA) – Stefan Marx (Germany) – Ethan Hayes-Chute (USA) – Human Five (USA) – Alexander Purdy (USA) – Robin Cameron (USA) – Kelie Bowman (USA) – Kalkylom (DK) among others...