TIL VÆGS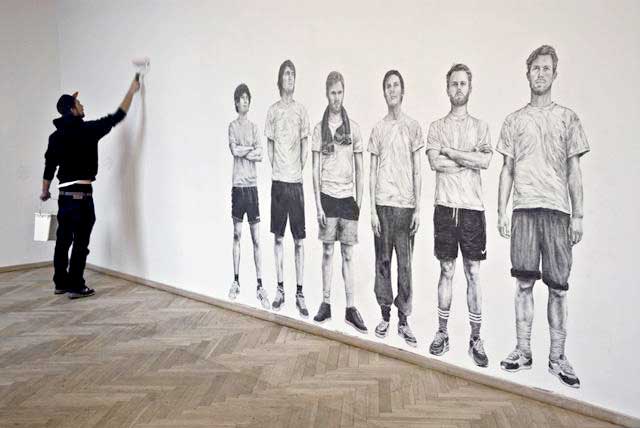 TIL VÆGS
at Charlottenborg 17. Jan. — 15. Mar. 2009
Telefon Til Chefen made this wall drawing for the group exhibition "Til vægs". The work is a self portrait and drawn with pencil directly on the wall. The imprints of the ball are the remains of a soccer match played in the room with the doorways as goals.
Armeret med pensel, blyant, kuglepen, speedmarker og andet indtager ca. 40 kunstnere hver deres væg i udstillingssalene. Kun med de forhåndenværende redskaber betegner, markerer og indtager kunstnerne væg og rum i Kunsthal Charlottenborg.
Medvirkende kunstnere:
Ivan Andersson, Augusta Atla, Bank & Rau, Zven Balslev, Trine Boesen, Kaspar Bonnén, Vibe Bredahl, Peter Ravn Callesen, Claus Carstensen, Lars Christensen, Christien Clemmesen, Bjørn Pierri Enevoldsen, Christian Finne, Thomas Fleron, TTC / Telefon Til Chefen, Nils Erik Gjerdevik, Malene Hartmann, Emil Westman Hertz, Kristofer Hultenberg, Ida Kvetny, Malene Landgreen, Marie Søndergaard Lolk, Christina Malbek, Jørgen Michaelsen, Bodil Nielsen, Fie Norsker, Carina Randløv, Stefan Rotvit, Julie Sass, Morten Schelde, Christian Schmidt-Rasmussen, Jonas Hvid Søndergaard, Evren Tekinoktay, Alexander Tovborg, Christian Vind, Kirstine Vaaben, Theis Wendt, Mette Winckelmann og Troels Aagaard.
Kurator: Maria Gadegaard Udstillingskoordinator: Helle Bøgelund